Sample pack: Noise Control Barrier 2.0
Yes, I want my sample pack
More noise reduction, less construction noise
Request your Noise Control Barrier 2.0 sample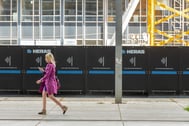 This sequel continues where the 'old' version left off. What's the most significant improvement?

The new Noise Control Barrier 2.0 reduces noise levels by up to 32.8 dB. According to extensive testing, that is 6 dB more than the previous version. The barrier's dimensions have also changed; the narrower size makes it much easier to use. But there's more! The new barriers can now be used more flexibly for various applications and take up less space during storage and transportation.

A third advantage is the material. The first Noise Control Barrier was a quilted canvas that reduced noise but also absorbed moisture. The Noise Control Barrier 2.0 consists only of a special, patented canvas (without an absorbent layer). This increases the product's lifespan and ensures it doesn't require any maintenance.

The sample pack contains a small piece of the new barrier so you can familiarize yourself with the product. Be sure to request your sample pack today.